Go All-In On Your B.A.N.K. DESTINY and Earn Big as a CODEBREAKER TRAINER
Elevate the science of sales to artistry while you build a thriving small business as a CODEBREAKER TRAINER!
Develop the skills and get resources you need to build a thriving business teaching your B.A.N.K. mastery to others. Once you're certified, keep 100% of revenues from your events. Just purchase your materials from us and pay our annual licensing fee, and you keep the rest!

As a singer, speaker, and presentation coach who loves the stage, becoming a Certified B.A.N.K. Trainer just made sense. It added the perfect complement of tools, training, and technology to my business model. This has created at least a 7x return on my investment and counting. Becoming a Trainer was one of the smartest moves of my career, and I'm having a lot of fun! - Stephanie Bonte-Lebair

USE PROVEN B.A.N.K.
RESOURCES
Never worry about creating material. Simply use proven curriculum and marketing.

ENJOY UNLIMITED
INCOME POTENTIAL
With the freedom to run your business your way, keep 100% of profits from your events.

DISCOVER
YOUR MISSION
Build a thriving business by helping others learn the universal language of B.A.N.K.

BE A CERTIFIED
B.A.N.K. EXPERT
Understand everything there is to know about B.A.N.K. and use it for massive income, influence, and impact.
We offer five certification levels sold in three packages. Each level adds the ability to teach higher level (and value!) courses.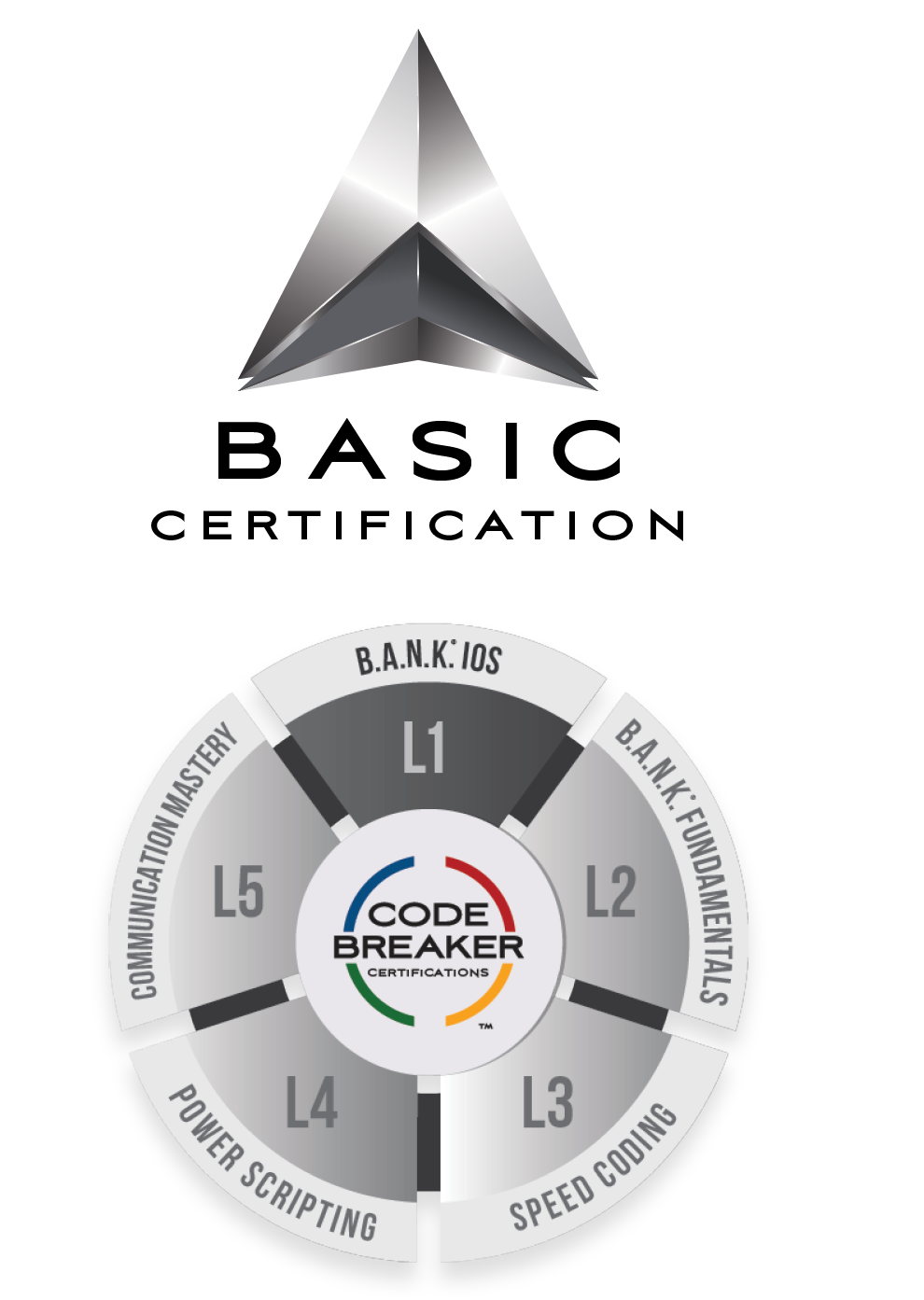 BASIC CERTIFICATION
Get certified to teach and coach the six Intelligences of the BANK IOS.

Learn to guide others to leverage the power of Personality Intelligence, Sales Intelligence, Emotional Intelligence, Artificial Intelligence, Business Intelligence, and Spiritual Intelligence.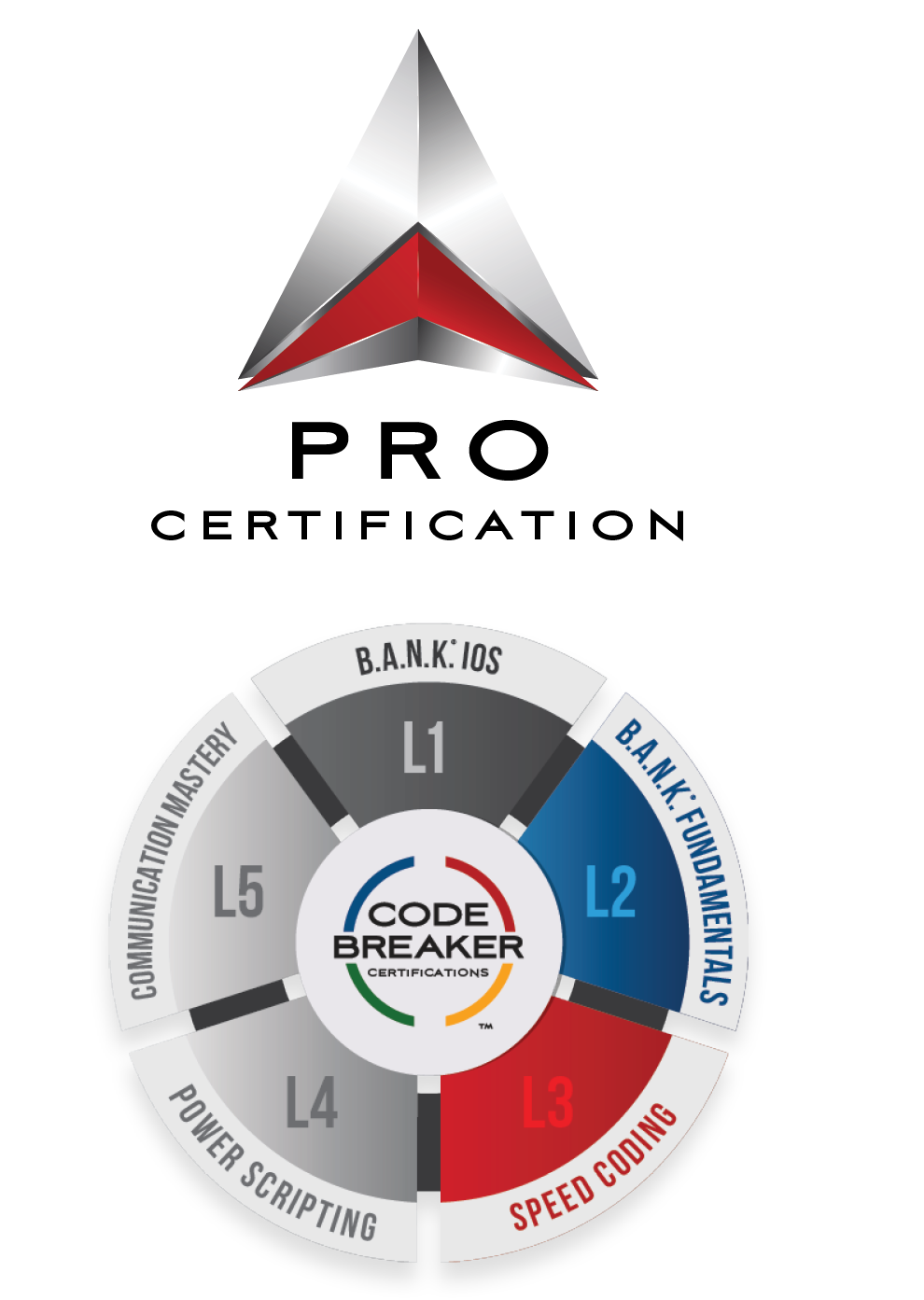 PRO CERTIFICATION
In addition to L1, get certified to teach B.A.N.K. Fundamentals for Sales and Relationships and Speed Coding.

Learn how to explain how B.A.N.K. works and why it matters in sales and in life. To teach Speed Coding, you will hone your BANKCODING skills and learn how to effectively share that expertise.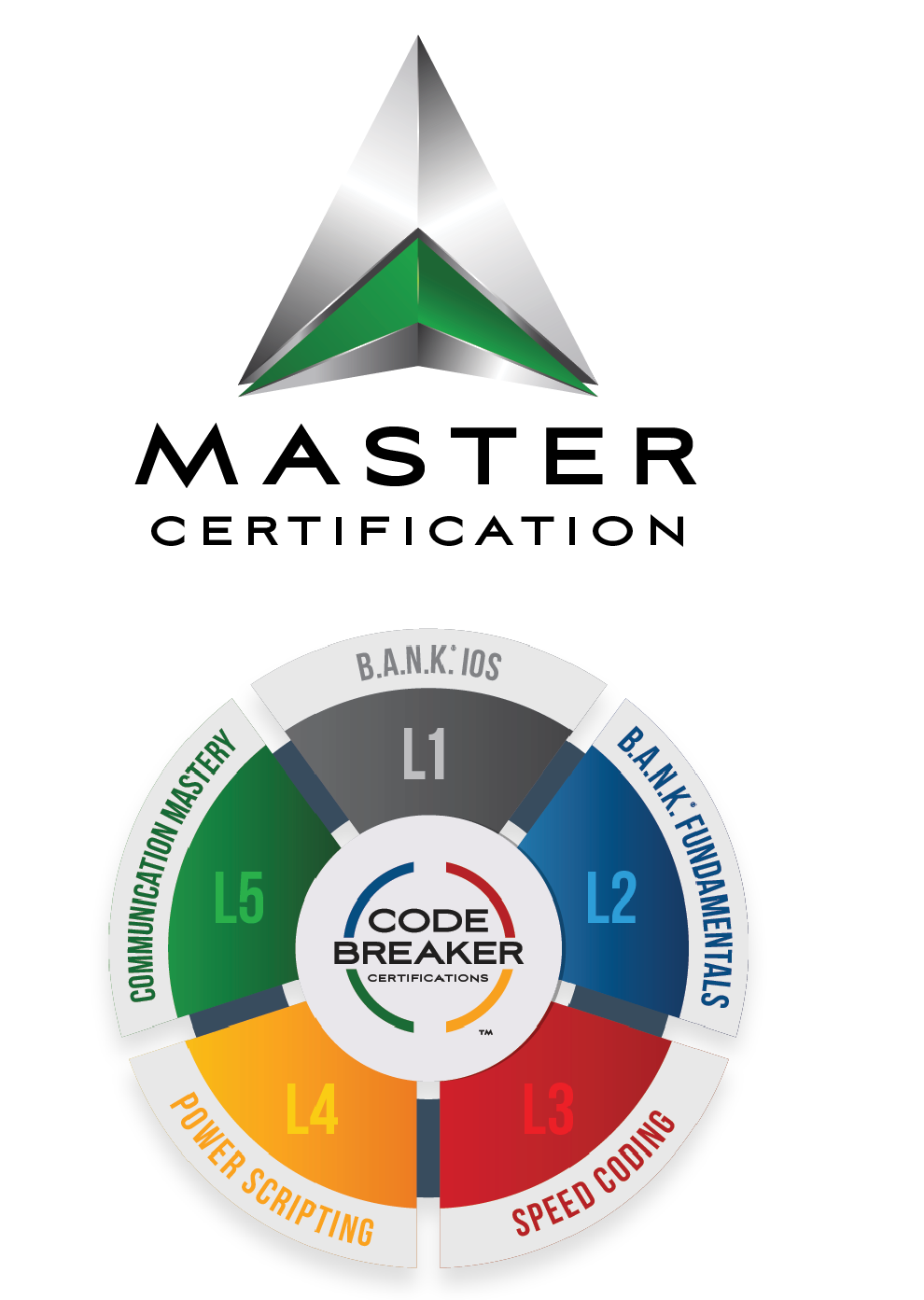 MASTER CERTIFICATION
In addition to L1-L3, get certified to teach Power Scripting and Communication Mastery.

Learn how to apply the B.A.N.K. communication Power Scripting formulas to customize any sales script to any individual BANKCODE in seconds. By combining emotional intelligence with B.A.N.K. communication, you will learn to to teach others how to connect with the most important people in their lives — and sell to the most influential people in any network.
ARE YOU READY TO MAKE YOUR PASSION FOR B.A.N.K. A BUSINESS?
Apply now to become a CODEBREAKER TRAINER. Over 80% of Forbes 500 companies and high-growth small businesses use personality-based training. As a CODEBREAKER TRAINER, you'll be perfectly poised to fill that need, which is the recipe for success. Click on the button below to start your application:
We have answers to our most common FAQs!